Explore Studs Earrings
From simple gold studs earrings to fancy diamond studs, we combine lustrous pearls and fine gem stones.
Versatile Studs
Ear Studs - Safer, Unique, Versatile
See unique and safer types of studs earrings. We especially like to combine diamond studs with gems or fine pearls. A style like no other. Wear your ear studs for the day and add on gems or pearls for fun or occasions! Have a look at versatility by Martinus
Serena Stud Earrings
Day or Night! This classy stud earring combination has a lot to offer. The fine diamonds were flush set into lightly curved white gold. And, the reversed drops of Brazilian Aquamarine feature gentle cabochon cuts. Serena ear studs are elegant and practical in the day. Yet once combined, a real blast for occasions. Diamonds 0.35ct F/vs and the aqua drops at 9.71ct are connecting with big secure backings. All in 18k white gold.
Dolce Vita
Find sweetness in life! Gorgeous like gold itself, these softly textured ear studs can be worn as a glowing statement on their own, or attach their freshwater pearls to face the music and dance! Gold 18k, fine pearls, detachable.
Meringue
Treat yourself! The Spanish word for this dance means 'the sweet dessert'. Sweet, appealing and fun! Sparkling diamonds show their potential in polished white gold settings. While riding the wave of matted yellow gold, they present two perfect diamonds of 0.16 carat in F/vs quality. Hand-crafted ear studs, for the daily joy in 18k yellow gold.
Morning Breeze
Elegance, slightly bold, - how is that? White lustrous button pearls are presented in our classic bezel setting. Who loves simplicity at its finest? Here in 18karat white gold handmade on Salt Spring Island.
Heart Beat
In love with simplicity? Two hearts are better than one! And,- who wouldn't have a crush on lavish shapes in richly textured gold? "Heart Beat" is pure 18k gold, handmade with safe, strong backings. Don't hesitate!
Safer Backings
Independent of size, butterfly backings have to be made of strong gold springs. These springs -must- match the curve of the post notches. If you need it safer, we recommend French Alpa backings. Here to the right, these unique earrings super stopper mechanisms have inner spring locks to keep safe what you value.
Lily Lilly Studs
New kids on the pond! Gorgeously simple. Keep you ears at nature! Just the right buddies, anywhere you go. Nice comforting studs earrings, solid for day or night. And all handsomely textured in 18 karat gold. Strong posts and backings for sure!
Lily Bloom
New bloom at the pond! Gorgeously simple yet abundantly fresh. Who can say, what sparks nature for its beauty? Comfort your self with studs earrings solid for the day and a little bling at night. What a pair, handsomely textured in 18 karat gold. Relay on strong posts and peace of mind backings! Two diamonds F/vs 0.07ct
Reflections
Be reminded of a sweet first kiss or recall your special memories with these classically stylish earrings. Fine white diamonds are gypsy set in gently curved yellow gold. Simply stated sophistication. 18 karat yellow gold, diamonds 0.12ct.
Mon Ami Studs
If you don't have a best friend in your jewelry box yet, here is one for your attention. Consider comfortable ear studs that will stick with you, classy, trouble free in every day. The diamonds are flush set in gently curving, polished discs. Simplicity, non catching, elegant and secure on ultra big backings! 2 Diamonds, F/vs 0.35ct - 18 karat white gold.
Pirouette
Full of sparkling energy and balanced perfection. Pirouette Studs Earrings proof exquisite simplicity in shape and proportion. Perfect craftsmanship brings together two matching diamonds within gently curving surfaces of matted yellow gold. 2 Diamonds each 0.12ct F/vs and 18k yellow gold on strong backings.
Luscious, stunning!
Bliss
Bliss Diamond Studs   $ please inquire
Studs earrings that tempt the light in many ways. Bliss studs are Martinus' new development of setting style. See rounded shapes of polished surfaces that centre diamonds with bliss. Remark! To our own surprise this inward curving setting makes every diamond look bigger. Handmade ear studs to order in diamond sizes from 0.70ct to 1.00ct. Combined with super secure French Alpa Backings all in 18k white gold. $1,360 plus diamonds priced according to size and clarity. Inquire!
Maya Twirl
Who would not love the sun and its magic metal gold? Maya Twirl is our little reminder that the sun was of utmost importance to ancient Maya. As careful observers of the sun, they could predict eclipses and celestial cycles already in the 16th century. An ancient spiral shape combines here with gentle curved stud faces in our Maya Twirl. Made with secure strong stud posts and snapping backing springs for your peace of mind.
Star Catcher
The stars of our earring collection. Their rounded shape and gentle surface of hand-crafted 18 karat white gold earring studs combine with the quality cut of two real night sparklers. Add fun to your life. Two diamonds 0.61ct F-si1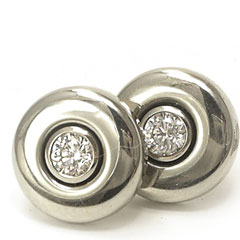 Studs Earrings – What is important, what to consider?
Explore safer types of earrings. Learn, what separates good studs earrings from the looser ones? And what are the better ear studs? Who doesn't know of early morning earring stress! Let's have a closer look at studs earrings and choices . Gold studs or white diamond earring studs are a staple in everyone's life now. Sometimes backings get lost, or they disappear through the bathroom drains. Also, sweaters tend to pull off, what once were favourite earring studs, – and often quite valuable!
Lots can be done!
Safety measures may depend on your ear studs value, or your individual appreciation. Therefore, we use strong stud posts and the strongest butterfly backings possible. Those truly can ease a woman's life. Often overlooked for these types of studs earrings are the earring post's snap-notches. For best safety, they have to fit the curve of their particular backing spring exactly. For sure this helps takes care of the mentioned search stresses. If you need it safer; let's say for the girl's best friends, the big diamond studs earrings; we recommend the click-in French Alpa backings. These unique earrings super stopper mechanisms are my favourites. Do you have a favourite earring in mind? We are eager to serve you as our customer! Did you check our Stars on Google?
Returns – If needed – We will make it work for you!
Our 
ear studs are created with tremendous care, one 
pair at a time.
Clear, that jewelry is our passion! And,- with all said before, trust and reliance stand high at Martinus too. Our Photo Certificates testify to the quality of our gems, diamonds or precious metals. Each of our designs comes with a Certificate. And, – the originality of Martinus fine craftsmanship stands alone as a promise to you! 
Our Shopping Cart has simple handles. Email below and we'll ship to you! -Martinus-
Comments - Inquiries - Ordering
Thank you for your interest in my Studs Earrings!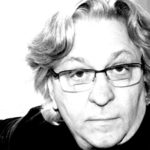 Best Service Included!
Your contact will never be shared, – we do respect your privacy!
Since I was young, I knew that my artistic capacity would make me happy. Clear then, that it would not necessarily make me rich. I opted for the satisfaction instead. Money was often tight in my life, but now it has become the fluid that helps my ideas come true – a pleasure for sure!
And, – be assured, that I give you the best jewelry I can make – and the best service you can think of.
What Customers Say
Returns – If needed – We will make it work for you!
Life can be good, – if we both agree! -Martinus-
As small scale Artisan producers we don't have everything available at all times. If you see the earrings you love don't hesitate. Let's talk, call  1 250 538 1730
Thank you kindly, we appreciate your business -Martinus-