Hoop Earrings
Martinus' hoop earrings click like friends for life!
Sun Drops & Star Dance
Martinus Infinity Hoops - a unique flexibility concept for hoop earrings!
Based on Martinus' click-in secure hoop concept, here you find great ideas of hoop additions in yellow, white or fancy rose gold. Our designs are crafted one pair at a time in Master Artisan quality. Change up with pearls, gems and perfect diamonds. And, the creativity is yours!
Infinity Hoops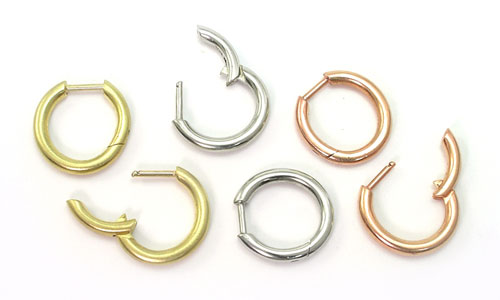 Beautiful on their own and one click to trusted safety. Real comfort, easy to use and versatile with Pearls, Gemstones or fine Diamonds. 18 karat yellow, white or rose gold.
$640 a pair
Sunrise
In the blush of a rosy morning, pink champagne colours of natural diamonds harmonize with polished rose gold. It's comfort, dynamic and fun on Martinus' secure Infinity Hoops. Bold and strong for red heads!
Moon Dance
A bright moon shining over Polynesian nights, reflecting the sparkles of these fine Tahitian pearls. Here worn elegantly on Martinus' Infinity Hoops. Black 10.5 mm Tahitian Pearls and 18 karat white gold. How classy is that?
Little Sunshine
Eye catching, these European style citrine cuts are set in Martinus double step bezel settings. This set of hoop earrings can be worn for every occasion, classy from fun to elegant. Handmade in 18 karat yellow gold.
Flying Dreams
These stunning earrings feature two bright blue faceted natural zircon with the exquisite lustre of fine grey Tahitian pearls highlighted by a Peacock overtone. This eye-catching colour combination is elegantly set in polished white gold. Perfect for green or blue eye colours. Scrumptious! 18k white gold, Zircon Pair 1.2ct, Pearls 9.5mm
Saturday Morning
Come Saturday morning I will be going out with my friends. And we will remember our Saturday earrings - long after Saturday is gone. 18 karat yellow gold, diamonds each 1.30 ct to 1.80 ct - price at your request!
Sun Dance
Stand out in elegance and simplicity. Perfect lustrous freshwater pearls come to dance with your movements. It's fun to feel confident. Rely on Martinus' click-in secure hoops of 18 karat and brush matted yellow gold.
Sunshine Friends
Sunshine Friends   $2,450
Find stunning simplicity and sparkling perfection with your every move. Discover the reflections of natural champagne diamonds on hoops that will never let you down. Our Infinity Hoops klick like friends for life. Here in 18 karat yellow gold, diamonds 0.40ct K/vs - Perfect!
Costa Verde
What a fresh breath of air, these earrings dance like Fairies in the wind. Matte white gold, sparkling Brazilian Tourmalines, accented by light green Diamonds. What a perfect match! Tourmaline 1.50 ct, White Gold 18 karat and Diamonds 0.04ct.
Lumina Dance
Find stunning elegance and simplicity. Here Martinus' safety ear hoops are portraying perfect South Sea Pearls with your every movement.
Pearls 11 millimeter, 18k white gold.
Star Dance
Find stunning simplicity and sparkling perfection with your every move. Discover the reflections of natural diamonds, icy clean, on hoops that never let you down. Here in 18 karat white gold, diamonds 0.62ct F/vs - What's more Perfect!
Merlot Drops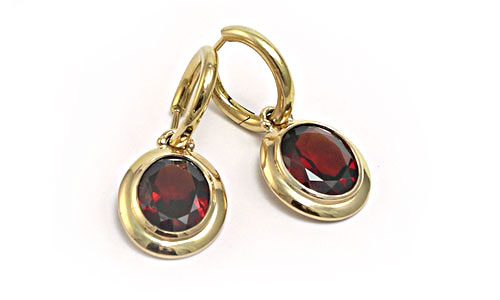 Find sparkling heart red garnets for every occasion. Martinus' hand crafted earrings in polished yellow gold. Perfectly suspended from his signature Infinity Hoops. Secure, classy, never to worry! Gold 18k, Garnets 6.8ct facetted.
Sunset Drive
Find sparkling perfection with your every move. So calm so comforting. Discover the reflections of natural Australian diamonds, cognac coloured naturally, on hoops that never let you down. Here in matte 18 karat rose gold, Diamonds 0.36ct - What can be better joy?
Harvest Moon
There is a light in her eye, that wins without art; and there's grace in her step, and joy in her heart. (Harvey Rice) Harvest what good times are for! Infinity Hoops, white gold for Diamonds of 0.80 ct to 1.00 ct each. Price upon request
Rosalie
Elegance subtly stated! Find pearls in colour perfection. Rosalie's pearls in peach and white go so well with Martinus' Infinity Hoops in polished 18 karat rose gold. That is joy of life, understated!
Mayan Sun
The sun was central in Mayan belief and mythology. Here domed disks of matted gold heighten the contrast between the metal and the dispersing light of fine diamonds. The subtle shapes relate beautifully with our Infinity Hoop design. 18 karat yellow gold, diamonds 0.20ct. F/Vs.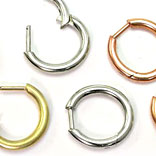 Unique Hoop Earrings comfortable, secure, versatile
Enjoy gold hoops of versatility and comfort! Find your first secure hoop earrings here. It's simple yet genius! You will love their one-click trusted safety and real ease of use. Change up looks with pearls or diamonds or wear them on their own. A versatile design we call Infinity Hoops.
It's an original Martinus invention, – and we hand produce these hoop gold earrings in our studio. Their tension posts cause the trusted snap-in sound. Our hoops click well in all three gold colours. Which gold colour is your best? Is it the gentleness of our yellow hoops? Is it the crisp polished white gold, or the more elusive rose gold hoop earrings you fancy? One pair of gold hoops makes for lots of different looks! To be seen in the variety in our handmade hoop attachments, made one pair at a time. Discover precious Pearls, gleaming Gemstones, or add some dashing Diamonds.
Our Shopping Cart has simple handles. If you like our ear hoops, email below and we'll ship to you! -Martinus-
Comments - Inquiries - Ordering
Never loose your ear hoops again

We are eager to have you as a customer! Did you see our Stars on Google?
Check our Reviews !!! Each of my pieces comes with a Photo certificate, which one do you like the best? Send us a note, we pay respect to your privacy! -Martinus-

As small scale Artisan producers we don't have everything available at all times. If you see the earrings you love don't hesitate.
Let's talk, call me here 1 250 538 1739
Thank you kindly, we appreciate your business -Martinus-
After 2020 my Studio is open by Appointment only ! –
What Customers Say
Returns – If anything – We will make it work for you!