Diamond Rings
See diamond rings for woman in refined simplicity by Canadian diamond ring designer Martinus
Fly Away
Exquisite design, classic technique, comfortable to wear. An exceptional diamond presents itself in a spacious composition between sixteen fine diamonds. Light and graceful as a "Butterfly". A band made in 18 karat white gold. 16 Diamonds 0.32 F/vs spread around a Center Diamond of 0.23ct E/vs
Pebbles
Mastering the natural phenomenon of sand, wind and sea in fine jewelry. See a gently rippled surface capturing nature in its elements. This is a one of a kind idea. It shows off seven sparking quality diamond "pebbles" spread on its eternal beach. Choose quality and comfort at its finest - 18 karat yellow gold, Diamonds F/vs 0.21ct
Bespoken
Be natural, be different, be yourself, and never alone again. What a ring, as natural as gold can be and one of a kind in Canadian diamonds. Live wholehearted, live natural!Choose Yukon placer gold, 14 karat recycled gold plus a natural Canadian diamond 0.25 ct. K/Si1. What more to ask for?
Lily Blossoms
Serene jewels of the pond, seven leaves are floating to the surface of your hand. As if by magic five exquisite blossoms like fine diamond nymphs cast their spell. What is more enchanting? 5 Diamonds F-vs 0.15ct White gold 18 karat - Matte and polished elegance for life long comforting pleasures.
Princess found the Pea
Princess found the Pea   $old
Be special, be content! Give this diamond center stage on your hand. Quality Facts: This ring features a 0.25ct J/vs quarter carat light yellow diamond. It was selected for its clarity, very good cut and its all around strong brilliance. Martinus' newly invented recessed Jardin Setting was embedded it in a highly textured yellow gold ring. Fully handmade, it merges the yellow hues and gives this diamond a presence it truly deserves!
The Graduate
We may have learned something, when life is changing for the better, make it forever as its said for a diamond. This handsome ring is as solid as a true promise. Textured gold with polished side bands states purpose and stability for life! Canadian Diamond 0.50 ct K/Vs2, 18 karat gold band.
White Barnacles
Inspired by the sea, the sparkling abundance in this exclusive Matrinus design offers twenty exquisite diamonds along an eternity band. European craftsmanship in 18 karat white gold. Twenty diamonds, 1.04ct F/vs.
Eye of Egypt
Captivating as the ancient Egyptian Eye Symbol combined with one diamond's mysterious sparkle! Martinus captures a natural peach champagne Canadian diamond in a new original setting style. This "tension setting" allows for flowing contours. Too it feature a beautiful contrast between matted and highly polished surfaces.Precision handmade Canadian in 18 karat rose gold. Diamond 0.41 ct K/vs2 certified Canadian, laser engraved.All this, true comfort and nothing catches!
To the Nines
Don't go to town without your diamonds! Well-dressed and pleasing to the eyes! This flaring crown of nine fine diamonds shows perfection, grace and comfort in one. Nine Martinus' Bellevue Square settings highlight diamonds of 0.75ct F/vs in 18 karat polished white gold, made for candlelight and sunny days!
Purity
A pure heart is rare to find! Even more attractive than beauty, truthful lines of white gold embrace this solitaire diamond. Classic brilliant cut Diamond 0.50 F/Vs2, 18 karat white gold. Trust a happy ending.
Barnacle Beach
A jeweler's impressionist view on nature. Seven naturally rosy Australian diamonds of varying sizes have found their rock solid setting. With the subtlety of its merging colours and gentle shapes, Martinus' new design in polished rose gold is composed in absolute simplicity for your comfort and to last forever. Rose gold, Natural light champagne diamonds, 0.74ct.
Barnacles Trust
Inspired by reflections from under the sea. Martinus' take on nature, expresses sensitivity to flow and proportion. Elegant side bands frame his signature design. The playful row of twenty exquisite diamonds is elegantly bezel-set around this eternity band. 20 Diamonds 1.04 ct. F-vs. 18 karat white gold.
Lily Blossoms
Alluring, shapely Water Lilies are the inspiration for great works of art and a precious sculptural design. Six fine diamonds nestled between the leaves float like blossoms opening toward the heavens. 6 Diamonds, F-vs 0.10ct. 18 karat yellow gold
Snow White
Gutsy good hearted. White tone on tone and a masterpiece of simplicity! A clear white diamond is set here in a matte finished low bezel setting. It connects to a polished oval-shaped ring band in absolute precision. Eighteen karat white gold. Diamond 0.30ct E/Si1A solid piece of jewelry ready to comfort you in all movements of life.
Bliss
Bliss as the essence of simplicity. This composition of clear lines and rounded shapes tempts the light in many ways. Fine polished surfaces allow for it to flow in joy and serenity. And - the diamond centers the light with bliss. 18 karat gold, diamond G/vs 0.32ct.
Royal Barnacles
In a hue of peach champagne, sixteen brilliant cut diamonds of varying weights give shape to your finger. With more than one and a half carat stone weight, the natural colour of its diamonds together with the polished rose gold, blend so perfectly in this ring. Enjoy authentic craftsmanship and this milestone from the family of Martinus' signature Barnacles designs. 18 karat rose gold, 16 peach champagne diamonds 1.57ct.
Barnacle Friends
Barnacle Friends   $4,920
A jeweler's impressionist view on nature. Seven naturally yellow diamonds of varying sizes have found their rock solid setting. Martinus' new design in hammer textured yellow gold is composed for absolute simplicity and comfort. Yellow gold, natural light yellow diamonds, Si 0.80ct.
Seven Seas Barnacles
Seven Seas Barnacles   From $1,840 to $2,220
The playful elegance of seven fine diamonds in natural colours are harmonized with bright, gold tones in Martinus West Coast style rings. Designed with a comfort fit band, inspired by the shimmering seas. Individual rings available in white, yellow or rose gold.
Barnacle Grace
Shining abundance like grace in time. Martinus' new Barnacle design in polished white gold is composed of seven varying diamond sizes. The fine line of quality gems is set in absolute simplicity on a ring of gentle shapes to comfort and to last forever. 18 karat white gold diamonds F/vs 0.74 ct.
Helena
Sophisticated, this exquisite ring echoes the refinement of classic Greek culture. Martinus' design offers truly elegant proportions and a brilliant cut diamond centerpiece. Diamond 0.56 ct F/Si1, 18 karat polished white gold.
Never let me go
Never let me go   $2,950 & $3,150
Sparkling gypsy set diamonds are little promises on this exquisite eternity band. A softly brushed, white gold band is contrasted by a rounded; highly polished inner profile. Two red hearts are your hidden promise. 10 Diamonds G/si1 0.15 ea. 18 karat yellow and white gold.
Tenderness
And simple pleasures become a passion! Our Tenderness ring follows shapes and lines of your hand in perfection. Its curves and inner rounding snuggle in with you for life, while the rosy natural colour of diamonds does the same to the brushed and polished rose gold. 18 karat rose gold. Diamonds 0.15ct.
Crown of Laurel
A continuum of delicate leaflets reflect and honor the truth in life's deeper meanings. Seven fine diamonds sparkle like fresh dew drops between elegantly polished side bands and rounded, polished interior. Diamonds F/vs, 0.10ct. 18 karat yellow or white gold.
Fly Me to the Moon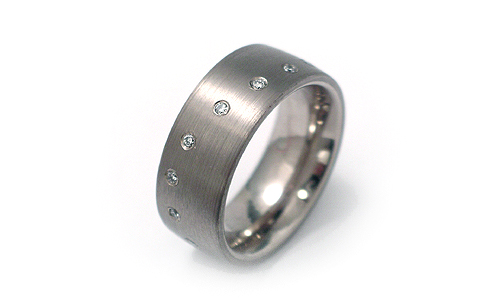 Fly Me to the Moon   $2,650
As love can take us over the moon, sixteen fine sparkling diamonds rise like stars along an impressive, softly burnished band. The rounded interior offers the comfort for life. A statement classic and confident. 18 karat white gold. 16 Diamonds 0.16ct. G/si1.
Celebration
Celebrate! Fall in love all over again with Martinus' eternity band. Sixteen selected fine diamonds are delicately inlayed along a shapely, refined white gold band. Uniquely understated, comfort fit. 18 karat white gold, diamonds 1.18ct F/vvs.
Twiggy
The twigs and twines of nature are the inspiration for this unique ring design. Combining white diamonds with the matte surfaces of rose, white or yellow 18 karat gold. Worn together or individually. Diamonds, 0.06ct.
Zenobia
Make yourself the center of your universe. Hammer mark textured surfaces and expressive lines draw focus and attention to simplicity. A hinged ring band adds comfort and pleasure in 18 karat yellow gold. Purity and refinement captures here a natural yellow diamond of 0.25ct. set in white gold.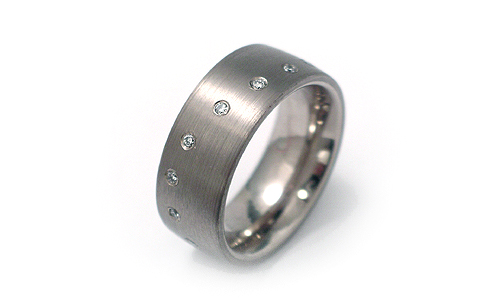 Temptation Diamond Rings
For Diamond Rings; there is no age and there is no time to miss their pleasures! When life is good, every day has its passion. Too, you likely want real comfort in a good handmade diamond ring design of white gold, yellow, or even rose gold. We search for natural diamond colours, therefor to match the three hues of gold.  The solidity of our rings will stand up for generations. All diamond rings in our collection are ethically sourced. Above a quarter carat weight they come internationally or certified Canadian.
Diamond Rings & Setting Styles
Explore the integrity of our handmade settings. Our "Bellevue Square" diamond ring setting for example, gives any diamond a good dash of sparkle. Coming from experiments the new Bliss Style setting came as a surprise to us. It features a rounded white gold diamond setting, which magnifies the look of any diamond and size. Do you have ideas of your own? Martinus can draw and design for you. Would you share what you like? We share what we know the best, – quality.
Our Shopping Cart has simple handles. Email below and we'll ship to you! -Martinus-
Comments - Inquiries - Ordering
Thank you for your interest in my Diamond Rings!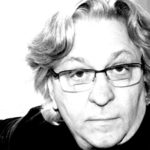 Best Service Included!
Your contact will never be shared, – we do respect your privacy!
Since I was young, I knew that my artistic capacity would make me happy. Clear then, that it would not necessarily make me rich. I opted for the satisfaction instead. Money was often tight in my life, but now it has become the fluid that helps my ideas come true – a pleasure for sure!
And, – be assured, that I give you the best jewelry I can make – and the best service you can think of.
What Customers Say
Returns – If needed – We will make it work for you!
Life can be good, – if we both agree! -Martinus-
As small scale Artisan producers we don't have everything available at all times. If you see the Diamond Ring you love don't hesitate. Let's talk, call  1 250 538 1730
Thank you kindly, we appreciate your business -Martinus-