Gemstone Rings
Discover gemstone rings in gold or platinum set with fine gems. Who cannot be stunned by their exuding ancient colours? Who can say, that it doesn't strike a bell in our soul. Often it's our birthstone where our hearts and feelings do connect.
Heart Reasons
Reasons of the heart are different than the reasons of the mind. Unconventional heart design by Martinus, featuring a natural spinel in a white gold setting. Heart shape Spinel 0.67 ct. 18 karat white gold.
Adria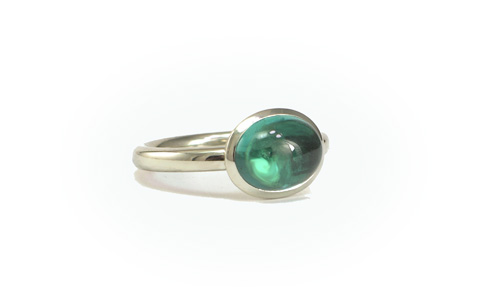 Glowing in the blues and greens, a solitary tourmaline stands proud in its white gold cradle. Almost fragrant as the pinewoods overlooking the Adriatic sea. Oval Cabochon Tourmaline 2.81 ct., 18 karat white gold
Pacific Wave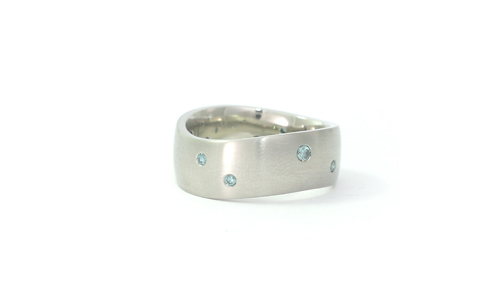 A truly impressive ring inspired by the eternal energy of waves. Nine precious, rare blue diamonds with brilliant sparkle seem to dance on this comfort fit band of matte and polished white gold. Diamonds blue/green 0.26 carat. 18 karat white gold.
Sunset Drive
An orange citrine captures golden memories of the day. The round profile silver band finishes the lines with solidity. And - another good day is promised. Cherish a lively Citrine of 0.95ct. It is set off in a rich 22 karat gold setting on a classy band of matted Sterling Silver.
Amadeus
Sapphire Cabochon 1.57ct, Diamond 0.09ct F/vs, White Gold 18k
Clarity, balance, and transparency are the hallmarks of Mozart's work, where true shape defined his genius. Like a note, freely placed, a smooth pear shaped sapphire cabochon and solitary diamond sing their love song.
Valencia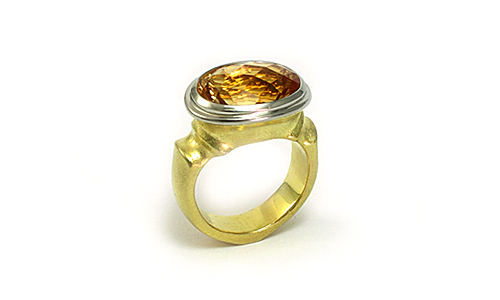 Rich, golden and orange hues create a bright, fresh look to a classic composition. The fine detail of its white gold bezel setting sets off the warm tones of hammered yellow gold and the glistening light of a stunning citrine. Citrine 7.8 ct. 18 karat white & yellow gold
Raspberry Fortune
Understated yet elegant, a soft mauve coloured tourmaline cabochon is elevated in a textured bezel setting and precisely embedded in a tapered ring shank. White gold 18 karat. Pink tourmaline cabochon, 5.65ct.
Ponte Vecchio
Brilliance and comfort! This citrine takes centre stage on your finger. The design speaks of a classic look in its hammer matted and polished surfaces. Arcs and curved lines are reminisced of the golden times of ancient Roman bridges. 18 karat gold, Citrine, 2.45ct.
Carnival
Samba nights in Rio! White gold, yellow gold and this stunning Brazilian tourmaline with its fancy checkerboard cut make this ring colourful and festive. Brazilian Tourmaline, checkerboard cut. 2.10ct.
Majestic Purple
Vivid color, an impressive gem and strong design exude a genuine confidence. A one-of-a-kind sculptural composition in highly polished white gold. Amethyst checkered board cut oval 17.03ct, 18 karat white gold.
Versailles
Cut to royal perfection, a spectacular, legendary green tourmaline evokes the Gardens of Versailles. 18 karat white and yellow gold are combined with a faceted tourmaline 2.40ct.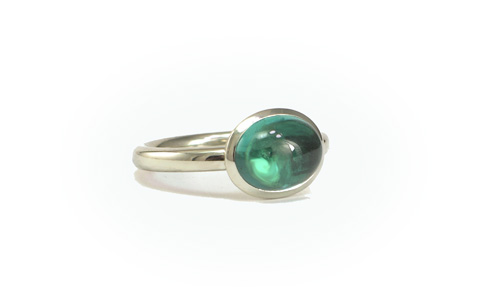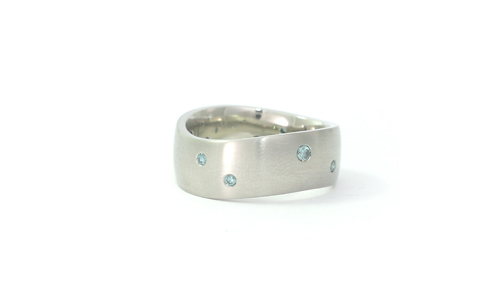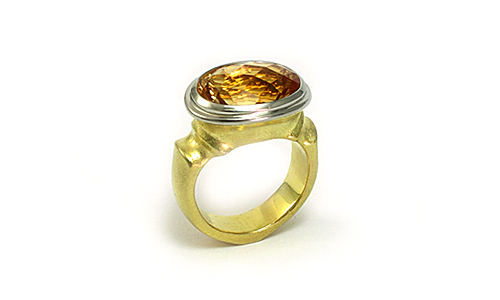 Gemstone Rings
If you ever owned gems , these coloured crystals came about millions of years long before we can think. It seems clear, for such a  crystal to become a jewel, it needs cutting. For hundreds of years it has become a profession on its own. Thus we buy and source well-cut gems from responsible cutters. With total focus on quality we take pride to provide the metal work around it. See how we fancy simplicity in the clarity of a shape or the elegance of a line. Also considering polished or matted surfaces, we fabricate gemstone rings in three distinct colours. Rose, yellow and white gold are melted here in our studio. As a Master Goldsmith, find decades of hands-on knowledge in the field to be yours! Ask any question, have a look at my work and let me know what you marvelled at.
What Gemstone Rings can do for you, meet by appointment or contact Martinus below!
Comments - Inquiries - Ordering
Thank you for your response!
Leave a Comment, Inquire, set up an Appointment or place your Order here. I will review your messages immediately. Each of my pieces has a name, which one do you like the best? -Martinus-
If you see something you love don't hesitate, there is always only one of each kind available and sometimes I have to find a gem or make it for your size. Let's talk, please call right away 1 250 538 1730
I am there for you if you mail or call: My Studio is open by Appointment – typically Tuesdays twice a month ! -Martinus-
What Customers Say
Returns – If anything – We will make it work for you!