Jewelry Quality

Elegance and Integrity
To speak of jewelry quality encompasses many things for us at the studio. Most important to say is; we create in a timeless, unique style, unaffected by fashion. In our shapes you will recognize the desire to keep our jewelry's integrity for generations to come. That's where eight years of training, a Master Goldsmith degree, thirty years in business and international design awards can promise you a quality, unsurpassed. We cast and we roll the metals into raw forms before hammers, files and polishing wheels help to create the purity of shape and elegance of line, distinctive for our work. And, be certain, if you ever need it, my immediate attention is guaranteed! -Martinus-

Gemstone Expertise
I was exposed to fine gemstones for most of my life. While apprenticing in Germany, at age 16, my boss Else taught me about gemstone properties, as well as how to set them securely. At that age I didn't like to waste my weekends memorizing numbers like the specific gravity of 4.2 for sapphire and ruby, comparing it to diamond of only 3.5.


Then there is the light refraction of 1.74 for the first two, belonging to the corundum group, whereas diamond is on its own, pure carbon, exposing the highest light refraction known at 2.42, responsible for a diamond's extreme brilliance. I had to write essays about the entire major gem varieties, where they are found, how to use heavy liquids to proof their specific gravity, a refractometer, a spectroscope for light properties.


Also I had to memorize what can be found as natural proof in gems by means of a microscope. I didn't like all that stuff filling up my teenage brain, but together with my gemology classes as part of my masters training much later, it has become an invisible treasure. It gives me total confidence, when helping students and customers to determine the effects on their jewelry quality.

Precious and Pure – the Metals
Jewelry quality is essential for the trust in our work. We use precious metals in their purest form, to be mixed and composed under a highly effective flame. And, we recycle old jewelry for you of any karat content to be purified back to their original components. We calculate, we test and we guarantee the proportions. The following Hallmark Stamps imprinted in our jewelry give proof to everyone and the additional diagrams explain how we compose and use our precious metals.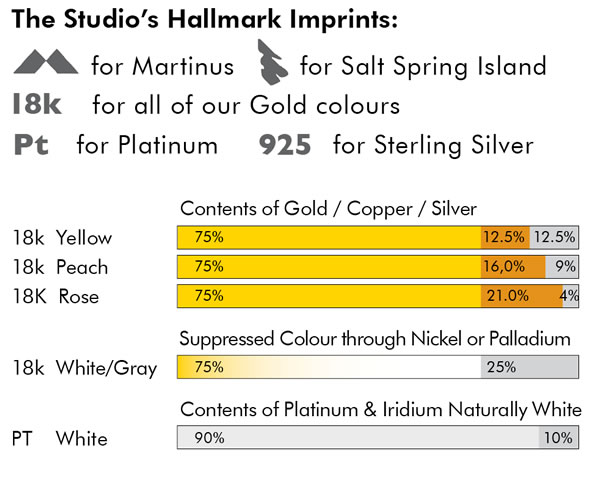 Certification
Martinus' authentic designs are unique in the jewelry world. Each piece comes with a certificate of authenticity, featuring a colour picture of your jewelry, a precise description of materials and the artist's signature.