Ear Studs
Never loose your ear studs again. Discover safer Ear Studs handmade by Martinus.  Avoid early morning search stress! We use strong stud posts and click secure backings to ease a woman's life. Find lasting joy and beauty in our studio's timeless handcrafted earrings. Be assured, this quality in fine jewelry design will make you and us stand out and appreciated for generation to come.
Versatile Studs
Earrings Studs - Versatile and Safe
See unique earrings and safer types of stud earrings to combine diamond studs with gems or fine pearls. A style like no other. If you like, early morning search stress can be over!
Rhapsody in Red & White
Rhapsody in Red & White   $2,750
What a perfect composition! Wear Diamonds by day, add fine Garnets to make it your special night out. Diamond studs in polished white gold 0.16ct F-vs2. paired with faceted Sri Lankan Garnets 3.23ct, all in 18 karat white gold.
South Sea Stars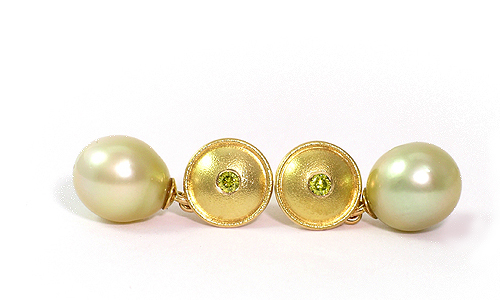 Floating on the South Seas, gazing at the stars you might see these earrings. Fine, light green diamonds are gypsy set in gently curved 18 karat yellow gold. Exquisite natural green South Seas Pearls dance with your every movement. Diamonds 0.12ct.
Safer Backings
Independent of size, butterfly backings have to be made of strong gold springs. These springs -must- match the curve of the post notches. If you need it safer, we recommend French Alpa backings. Here to the right, these unique earrings super stopper mechanisms have inner spring locks to keep your values safe.
Reflections
Be reminded of a sweet first kiss or recall special memories with these classically stylish earrings. Fine white diamonds are gypsy set in gently curved yellow gold. Simply stated sophistication. 18 karat yellow gold, diamonds 0.12ct.
Mayan Sun Circle
Mayan Sun Circle   $2,220
The sun was central in Mayan belief and mythology. Bright domed golden disks bring the sunshine to your ear. The contrast between gold and the dispersing light of two fine diamonds, that's it. Simple, elegant! Ear Studs with big butterfly backings make for safe and straight fit. Diamonds, G/vs 0.20ct - 18 karat yellow gold
Dolce Vita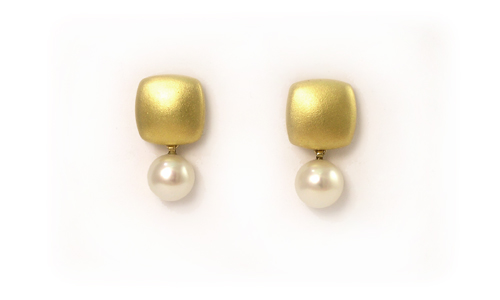 Find sweetness in life! Gorgeous like gold itself, these softly textured ear studs can be worn as a glowing statement on their own, or attach their freshwater pearls to face the music and dance! Gold 18k, fine pearls, detachable.
Meringue
Treat yourself! The Spanish word for this dance and music means 'the sweet dessert'. Sweet, appealing and fun! Sparkling diamonds highlight white gold settings riding the wave of matted yellow gold. Hand-crafted ear studs, joy and precision in 18k gold. Two perfect diamonds of 0.16 carat in F/vs quality.
Star Catcher
The stars of our earring collection. Their rounded shape and gentle surface of hand-crafted 18 karat white gold earring studs combine with the quality cut of two real night sparklers. Add fun to your life. Two diamonds 0.61ct F-si1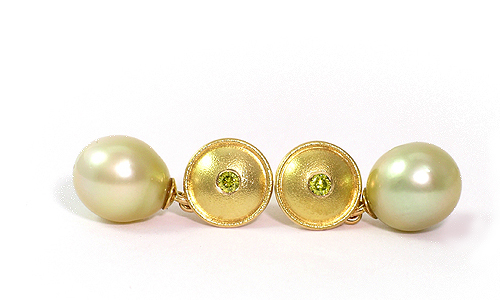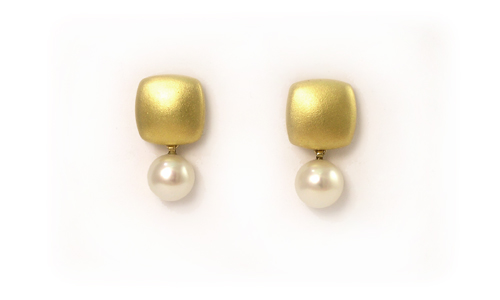 Ear Studs – What is important?
What separates good ear studs from the worst and how to find the best? Let's see. Ear studs are a staple in everyone's life now. Sometimes backings get lost, or they disappear through the sink holes, while sweaters can pull off the best parts before we know.
Lots can be done!
Safety measures may depend on your earrings' value or your appreciation. We use strong stud posts and the strongest butterfly backings possible. Often overlooked are the earring posts snap-notches. They have to fit the curve of their particular backing spring exactly. That takes care of many early morning search stresses. If you need it safer; let's say for the girl's best friends, the big diamond studs; choose French Alpa backings. These unique click-in super stopper mechanisms are my favourites. Let's check the designs again!
Our Shopping Cart has simple handles. Email below and we'll ship to you! -Martinus-
Comments - Inquiries - Ordering
Never loose your ear studs again!

We are eager to have you as a customer! Did you see our Stars on Google?
Check our Reviews !!! Leave a Comment, Inquire, set up an Appointment. Each of my designs come with a Photo Certificate, which one do you like the best? Be assured, we do respect your privacy -Martinus-
As small scale Artisan producers we don't have everything available at all times. If you see the earrings you love don't hesitate.
Let's talk, call  1 250 538 1739
Thank you kindly, we appreciate your business -Martinus-
What Customers Say
Returns – If needed – We will make it work for you!