SORRY, NO CLASSES AVAILABLE AT THIS TIME!
Professional Fine Jewelry Training Programs by Martinus
What other Schools can't offer
Key to the Martinus professional fine jewelry training is this — I want you to avoid learning from mistakes. Stay away from frustration, it's a long and painful path! Let's not waste anyone's time! You will have my full attention to avoid mistakes. This keeps your nerves at peace and your mind open for what is next. And – you will be learning in class size of only two to three students.
Your Goals Matter
Now – what are the most important things you can do for your professional future? First, to discover more about yourself, explore the Five Corner Stones of this European training! Set your own goals and expand into one of the three professional training programs that is right for you.
What is Talent, what is Challenge?
The most important thing is to find out how you learn the best! It may be that you learn best from drawings or easier from the spoken word. Let's raise some good questions to estimate this for yourself. Can you utilize your body memory for consistency of surfaces and shapes? Can you draw in your head from your imagination? Do you follow an image right where your forehead is showing it to you?
The 5 Corner Stones of Professional Fine Jewelry Training
It seems to me that the following aspects are the five best kept secrets in jewelry education. I had to re-assemble this knowledge from my own education. At the same time, I had to learn how to convey the essence of it over the past 10 years to more than 125 students.
Conceptual Strategies will be freely shared to make your work easier. It can help you in an occupation or support you as an independent jeweler. This will build your foresight. Too, it will help you understand the order of sequences in your own work. And – you will speed up, once nothing needs doing twice!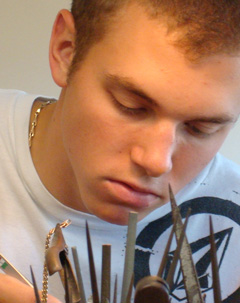 Observation Skills have a lot to do with a student's ability to focus. In the soldering for example; the many stages of our flux are related to the metal's temperature. Watching flux's capacity well, allows for strong and clean solder connections. The recognition of a surface quality through light reflection is another vital aspect. Often overlooked, surface corrections with files, gravers, etc. have to be based on good observation skills. Our body's awareness and muscle memory then come into play with corrections.
Body Awareness and body memory go together with our observation skills. It allows us to repeat an action with consistency. Even though very important for our work, this quality can only be taught to a certain degree. We have to rely on our body memory like athletes do. Discover your awareness and build up confidence once you know it!
Three-Dimensional Visualization abilities can be trained. Drawings and models are part of my professional fine jewelry training but talent is crucial. Just looking at a three-story high bloc of marble, Michelangelo could visualize a figure right into the rough rock. The figure's shape, body twist, hand or face expression, he knew it all from the beginning. If you are not quite there yet, let's help you come closer!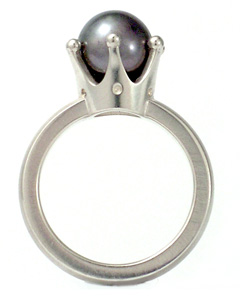 Creativity would be even more wonderful if it could be taught! It fills our lives or it's not there! I want to caution you. When being eager and passionate, many jewelers overdo their expression. Martinus training will always help you understand composition. Vital too, is how colours relate and how to avoid a change of concept on the go. Let's make your designs really shine for you!
Which of these top five in European Professional Fine Jewelry Training are important to you and which techniques can I help you with? Telephone or Email at the bottom of the page!
Testimonials –  see how Martinus Training has enhanced the paths for many jewelers!
1. Weekend Jewelry Seminars
Determine your talents – see into your career potential. Martinus helps you test for a new beginning. If there is anything that holds you back, together we can find lasting adjustments or trouble shoot for solutions. These are fourteen of the most intensive hours of your professional career to unfold. See my suggestions below. Set your own goals! – see more…
2. Apprentice-Style Training – Short Term
Up-Grades. Week-long or multiple week-long professional jewelers training sessions are customized to your projects and individual goals. Select the areas of technique to combine with new design skills for your own style. Plan for your niche market while improving your experience level.   Week-long sessions and multiple weeks are welcome for all professional jewelers. – see more…
3. European Apprenticeship – Long Term
Refinement for the long term. For this professional fine jewelry training you will need passion and patience. Working alongside Martinus, you will be directly involved in design concepts, plans and all aspects of fine jewelry production. Taking time to be serious at the workbench is integral to your career.  Twelve months is a minimum commitment. Prerequisite: previous relevant employment or training.   A one Weekend Seminar with me would definitely help us to get to know each other. Remuneration for assistance with production is negotiable. – see more…
High Stakes
Setting high stakes as a German Master Goldsmith with a Design Degree for more than 35 years in the workshop, that's my life. Winning prizes, registering a patent and copyright for my work in Germany, that's what still fills me with pleasure. There I started out, worked and designed for many years in my own studio. Two of my journeyman jewelers found the confidence to become Masters and Designers themselves. Later, I was working as a creative head of a man's jewelry factory, serving an international clientele. That became nerve-racking through price pressures from Asia. Thereafter, helping a Hamburg based designer in structuring her workshop; strengthening the production of her workforce. This is the point in my life when I decided to take a leap of faith. Canada was the place I wanted to build my studio and training. After all these experiences I can tell you this; if you have talent, we can make it a success!
Make it Your Way
Planning for your success, I offer all my skills to take you from where you are to where you want to be. If you have something to bring to my class, it is patience with yourself and to enjoy what you are doing. Certification for your level and area of study is available upon request.    – Martinus –
FAQ's – Materials, Travel, Accommodation, Work Safe
Exhibitions, awards, patents and more, read Martinus' Bio
Set up an Appointment 250 538 1730 or Contact Martinus Here

It's a gift to your talent
Let's find out when to start, what your interests are and how to develop your best plans.
How would you like us to connect with you?
Thank you for your questions and suggestions!
To answer your inquiry with thought and consideration may take a few days. I am happy to answer any questions by phone 11 until 4 Pacific time at 250 538 1730. Once we have assembled a good plan for you, a down payment of $80 is requested to hold your place in time.
Payment Methods
We accept Visa, MasterCard, e-transfers, PayPal, and Cheques or Cash if you happen to have it! Your Tuition Remainder can be paid at your class. The Tuition will be subject to GST, while GST & PST is charged on materials if provided.
No Stress Refunds
8 weeks before your class, you can step back to a full refund, no questions asked. If you are not satisfied after the first day of training, you will receive your refund for anything you have paid to us. Honour and a handshake between jewelers is all we need.
Favourite Accommodations
Indigo Farm
Salt Spring Inn
Seabreeze Inne
On Duck Creek B&B